Recent data published by the Office of National Statistics (ONS) shows that the number of UK vacancies reached new highs of 1,300,000 million between March and May 2022. Whilst levels of permanent vacancies may now be slowly starting to fall, so are unemployment numbers. So where are businesses going to find the resources that they need?
If we look in more detail at tech talent, the picture is equally challenging.
In a recent report by Skillsoft, three-quarters of global IT decision-makers claim to be facing critical skills gaps across their tech departments.
And according to CWJobs, their research has found that 94% of tech employers believe there is an industry-wide skills shortage. In addition, only 61% of employers say that they have their own training programmes for entry-level employees.
With the demand for skilled workers continuing to rise, it begs the question – what do we do if the talent we need simply does not exist? How do we address the tech talent shortage?
After all, a report by the Learning and Work Institute (L&W) says that the UK skills deficit will cost the country £120 billion by 2030.
So is now the time where we need to be more innovative in how we think about how we fill some of these requirements? We are all familiar with graduate training schemes, or training programmes aimed at entry level candidates, but with an aging population, and some stark statistics about the inequalities and barriers to entry to the work place that still exist, do we need to reassess how we are training our future tech talent?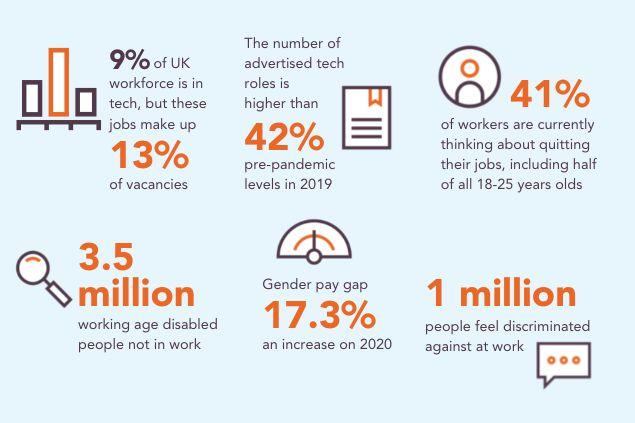 Key statistics:
9% of UK workforce is in tech, but these jobs make up 13% of vacancies

The number of advertised tech roles is higher than 42% pre-pandemic levels in 2019

41% of workers are currently thinking about quitting their jobs, including half of all 18-25 years olds

3.5 million working age disabled people not in work

Gender pay gap 17.3% an increase on 2020

1 million people feel discriminated against at work
According to Research by Thoughtworks, only 23% of people in the tech sector said their organisations had a return-to-work programme for working parents and carers, while 27% offered diversity and inclusion training. Just one in four organisations (25%) offered mentoring for employees.
For me, actually the answer should be quite simple – there are vacancies to fill, and we should all be focussed on ensuring that the best person for the job, gets the job. So I'm trying to call on businesses to reimagine the traditional attract, train, deploy concept, and think beyond the traditional CV search and selection process to ensure that people who have the potential for excellence do not miss out for any reason.
Your tech trainee requirement could be filled by someone looking to change career, or by a parent returning from maternity/paternity/adoption leave. Instead of focussing on which degree a candidate has, or which university someone has been to, we should look at the aptitude and potential that each and every candidate brings, and how their experience can add value to your organisation.
In the current market, we need to look for future talent from every available talent pool – and ensure that we remove the barriers which may have traditionally prevented some people from applying for roles.
At Outsource, our Future Technology Consultant model looks to partner with businesses to overcome some of these obstacles- by recruiting and training consultants in the skill set you require, and deploying them back to you on a day rate basis. We'll support you with your ED&I objectives, and ensure you get the talent you need to power your business growth.
Want to find out more?
 

Get in touch with our Head of Client Solutions, Sean Walsh

Sean joined Outsource back in 2001 as a technology recruiter and has experience of delivering workforce solutions for FTSE 100's to start up tech businesses.

Today he heads up our Futures Programmes and for more information, he can be contacted at:

T: 07912 495889