Did you know?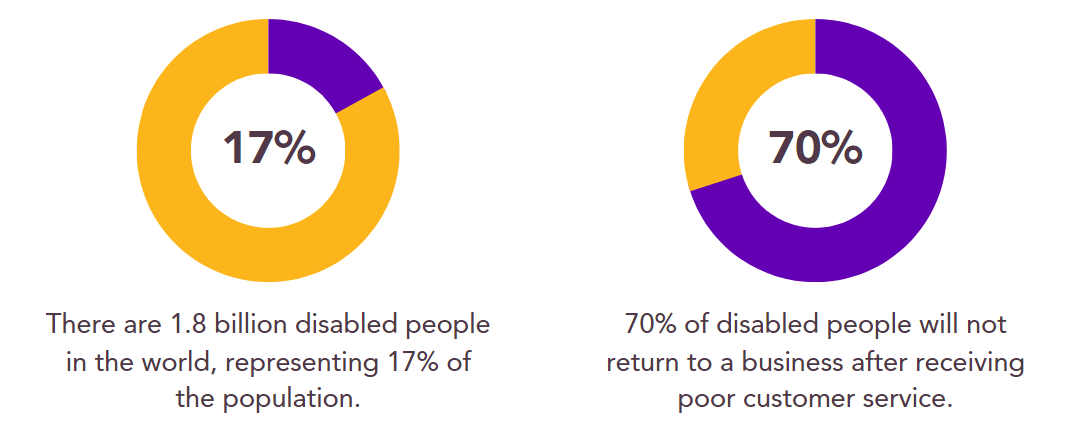 What is Purple Tuesday?
Purple Tuesday has become the #1 brand for improving the customer experience for disabled people and their families 365 days a year. The initiative inspires organisations and their staff, across all sectors and all sizes to promote awareness, develop understanding and put in place practical solutions for greater accessibility.
What does Purple Tuesday mean to us as a Recruitment Agency?
We've been proud supporters of Purple Tuesday for the last few years and truly believe we're in a great position to make a positive change in recruitment. Over the last six years, we've been working hard to become an inclusive recruiter. Two years ago we launched our new purpose, to eliminate bias, privilege and inequality within talent engagement, so making the recruitment process accessible for everyone is a huge part of this.
An element of making sure our candidates are able to access our services easily is by focusing on digital accessibility. This includes:
How we post our jobs online
Ensuring our jobs are easy to read
Social media
Website
It all needs to be as inclusive as possible so that we not only attract as many people as we can but also provide a fair opportunity to people who may not be able to have a chance to be the best person for the job. We know that making our content fully accessible to disabled people, will in turn, make it easier for our candidates and clients to use as well.
Our top tips for making digital content accessible:
Descriptive alternative text
When adding a picture online there is usually an option to add a descriptive alternative text to the image, or a description to a video. This will help those who use screen readers to know what the image displays. If the image is decorative only, Alt tags can be applied as an alternative.
Descriptive hyperlinks
When adding hyperlinks to a document or webpage, instead of writing 'click here' or just pasting the link, set the hyperlink as contextual words, such as 'Learn about Purple Tuesday'.
Bullet points and numbered lists
Blocks of text can be difficult for some users to read and take in. Using bullet points or a numbered list can help break this down large pieces of information for the user and also make it much quicker to understand the text.
Fonts and styling
Choosing the right font and styling is very important. Not only can a clear font choice make your website and documents look clean and professional but if this is not executed correctly, many people with visual impairments or learning difficulties may find your site difficult to read.
Opt for a clear font such as Arial / Calibri.
Try not to use a font smaller than 12pt unless necessary.
Ensure everything is aligned consistently - where possible, this should be aligned to the left.
Refrain from underlining text as this can be easily confused with a hyperlink.
Colour choices
Have you considered that some of the colours / patterns you use together may not be easily distinguishable to many people? Approximately 300 million people world wide have colour blindness.
Colour combinations to avoid: red & green / green & brown / green & blue / blue & grey / blue & purple / green & grey / green & black.
Print documents / web pages in grey scale to see how strong the contrast is.
Video content
We know how important subtitles are to those who are hard of hearing but did you know that in recent studies, 80% of all online users are more likely to watch a video with the sound turned off and subtitles/captions turned on?
Add clear subtitles / captions to all video content.
Ensure the text added to videos is clear to read throughout the video. This can be done by using contrasting colours.
Use of emojis
Don't get us wrong, but we love a good emoji to help break up the text in a Social Media post but did you know that a screen-reader will read out what the emoji is? The occasional emoji is absolutely fine but avoid using multiple ones in a row!
'Check Accessibility' tool
You can also run the 'Check Accessibility' tool on Microsoft Office to highlight suggested improvements to make.
Why you should get involved...
One of the key goals of Purple Tuesday is to encourage businesses to assess their current accessibility practices and identify areas for improvement. This self-reflection process allows organisations to understand the barriers that exist and develop strategies to overcome them. By embracing digital accessibility, we not only create equal opportunities for individuals with disabilities but also benefit from a more diverse talent pool. Through initiatives like Purple Tuesday, we can champion accessibility and create positive change for job seekers and employers alike.
Need support?
Our Diversity Insights Audit not only covers the digital accessibility of your recruitment processes but also helps to identify and remove other barriers to inclusion, supporting maximum attraction and ensuring the right candidate for the role is hired. Our audit analyses the specific ways in which policies, management, and culture are supporting or hindering diversity and inclusion. It also benchmarks your business against competitors. If you'd like to find out more about our Diversity Insights Audit or any of our other inclusive workforce solutions, get in touch with Mark Harris (MHarris@outsource-uk.co.uk / 07810 392994)
Sources - https://purpletuesday.co/